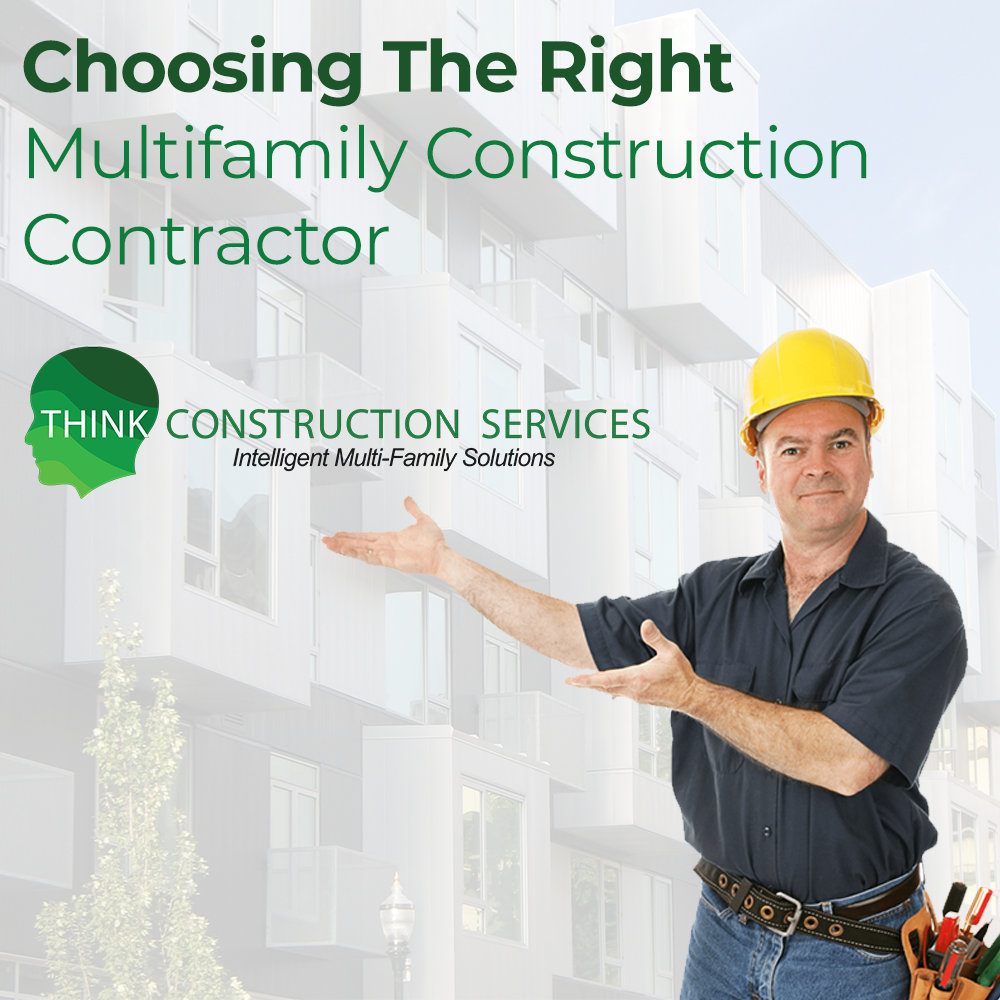 Choosing The Right Multifamily Construction Contractor
July 9, 2020
Leading Multifamily Interior Renovation Construction Company
If a general contractor has to subcontract out all the trades, it takes longer. We're getting in and turning it as quickly as possible to get it rented again. - Ward Register
Think Construction Services, LLC is a leading contractor in multifamily building renovations. The company, based in Clearwater, Fla., offers plumbing, heating, electrical and carpentry services to the majority of southeastern large apartment owners.
We do construction mostly in the apartment industry," says Ward Register, CFO of Think Construction." In apartments, we're renovating the interiors, performing all the plumbing, heating, electrical and carpentry work.
Regardless of the location or type of job, Think Construction employees are expected to do work by the company's motto: "Above and beyond." Register explains that Think Construction holds a high standard of work, as the company is one of the few contractors that specialize in renovation work and self performs each job.
Register reports Think Construction uses its own staff on jobs, even outside of the Tampa Bay area. Many employees enjoy traveling to different locations for work on apartment projects. Sometimes the company will hire outside tradesmen closer to the jobsite to help execute a project. One of our strong suits is we're licensed in all trades," says Register. "We hold all those licenses so we pretty much do all the work. The fact that we can self-perform kind of gives us a leg up in the industry."
Register's experience in and knowledge of the apartment rental industry helps the team when working with apartment companies to plan remodels. Think Construction gets involved from the very beginning assisting building owners with design, layout and a materials list. The company is also capable of advising property owners in order to achieve functional plans. If it's a kitchen remodel, Think Construction looks to optimize storage, preparation space and clean up functionality. For bathrooms, the company emphasizes choosing materials to work in the available space and budget.
Apartments are a good industry for Think Construction to be involved in at this time. Given the state of the economy, many people are more interested in renting than buying a home. This allows for more mobility and less financial responsibility. It also boosts the rental economy significantly. "Apartment owners are taking advantage of the low supply and the higher occupancy," says Register. "In the older apartment communities, landlords are updating what they have. They can get a rent premium for all the upgrades." Think Construction is contracting with large apartment companies to upgrade 15 to 20-year-old apartments. According to Register, the Think Construction team is going in and remodeling kitchens with new cabinets, replacing counter tops and switching out lights for more modern fixtures. This includes granite counters, stainless steel appliances and even energy efficient lighting. These types of upgrades have to be done quickly in order for apartments to be placed back on the market. According to Register, this is when self-performing the work puts Think Construction ahead of other contractors in the region.
We hope you enjoyed our post and please visit our partners Think Utility Services at www.thinkutilityservices.com for all you submetering and utility billing services.